Herning Church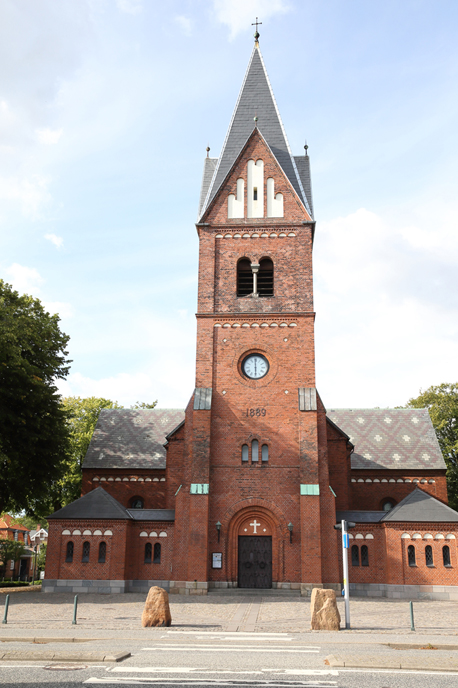 The church at the Townsquare of Herning is the parish church of Herning Sogn (The Parish in and around Herning)

The church was consecrated on the first Sunday of Advent, 1st of December 1889. The church replaced an old medieval church placed outside of the city.

The church was drawn by architect Claudius August Wiinholt from Viborg. To make the church fit on the Townsquare and in the cityscape they broke the tradition about the church choirs facing east - the church choir faces north, and the tower faces east.

The church's first altar and the altarpiece are made in ceramics by Th. Bindesbøl, who both sculpted and decorated it at Herman A. Kählers studio in 1891.

The old ceramics are now placed in the sacristy. In 1915 it was replaced by a bigger altar and altarpiece painted by Joakim Skovgaard. At the church's 100th anniversary in 1989, the church got a crucifix made by Erik Heidi, as well as a chime with 48 bells cast in France.

The church's current organ is built by Marcussen and sons and has 33 organ stops. It is placed on a big organ pulpit over the porch lowest in the tower. This is also where the Herning's Church boys' choir is under the worships.