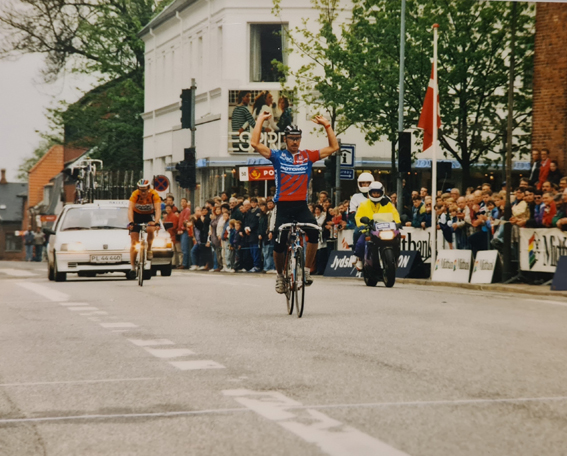 After the interview, Brian Smith announced that he will be at Grand Prix Herning 2022 acting as sports director for one of the participating teams, The Cycling Academy Race Team. We are looking forward to having Brian Smith back in Herning.

What do a Scotsman, an American, and a Danish gravel road have in common? The answer can be found 28 years ago, when two riders from the formerly mentioned nations, driving for a big American bike team, participated in a Danish bike race. The year is 1994 and they were going to try their hands on the now-classical gravel roads surrounding Herning, in the third version of Grand Prix Herning. The winner of the race was going to be the former mentioned Scotsman, Brian Smith.
"Wasn't I the first non-Danish rider to win the race?" Brian Smith, who among other things, now works as a speaker on Eurosport, asks. When he is asked to share his experiences with the race he replies "Now I will tell you the story, as I remember it"
It was a motivated Brian Smith, that in 1994 entered his fourth season as a pro bike rider. In the three former seasons, he had ridden for the British team Banana but had now signed a contract with the big American team Motorola. On the team were big names such as Phil Anderson, Lance Armstrong, Steve Bauer, Raúl Alcalá, and Andy Hampsten, which Brian Smith was going to be a domestique for later in the spring in Giro d'Italia.
"I was riding on Motorola, and I was on the list to go to the Giro d'Italia to help Andy Hampsten. He's a climber and our GC rider. Then I never got selected for Tour de Romandie, which was the preparation race for Giro d'Italia. And the team told me they were sending me and my teammate, Norman Alvis, to this bike race in Denmark instead"
Brian and his American teammate left for Denmark. It wasn't the first time the Scotsman made acquaintance with Denmark and the Danish roads, as an amateur earlier had ridden bike races in Denmark and had spent his 19th birthday in Tivoli in Copenhagen. However, he didn't quite understand why Motorola had sent him to a bike race on flat roads.
"We caught a flight to Denmark and were picked up by a man that welcomed us. He turned out to be a race organizer and he told us about the race, how it was 200 kilometres and flat with off roads sections.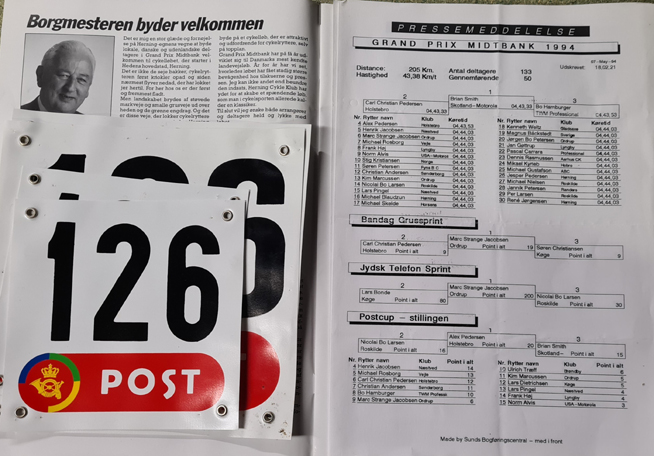 Photo: Brian Smith

I love Denmark and Danes and had raced there before when I was an amateur, but I didn't understand why Motorola sent me to a flat race. I was thinking "Oh, why did they send me here?" We agreed to meet him the day after and have a look at the course together. I was not overly confident in the gravel sections. Normal Alvis was excited, as was the race organizer, so on the gravel sections, I was the last of us to finish them every time. I wasn't looking forward to the race, because of the difficulty of the gravel roads, I was a little bit nervous, but we were there to do a job."
The bike race was in 1994 named Grand Prix Midtbank and on the start-line was, besides a lot of hopeful Danish bike riders, also a handful of pro bike riders, including a young Bo Hamburger (TVM-Bison Kit). A little before the start it started to rain, which didn't exactly help his nervousness. But when the race was off and was intense from the start, it was all about being at the front of the peloton, which was a good thing in connection with the Scotsman's nervousness.
"I'm the sort of person that can be relaxed before a race, and you can talk to me, no problem, but as soon the gun is off, I become a different person, I go into race mode. The race was very fast from the start, and I think that helped me because I quickly found my race mode. At one point I got myself into a front group of about 6-8 riders, and for some reason, we went off course, and they had to turn us around. We got back on the course, just as the peloton was passing. So, we joined the peloton again, but because of the rain, the roads, and the win, you had to ride at the front. And then suddenly I was in a front group again, with about 20-30 riders. I attacked and got Carl Christian Pedersen (Holstebro) with me. And I felt super strong. I tried to ask for some help, but he told me he couldn't help me. I was a bit nervous about having him on my wheel because I wanted to win the race, but I continued to ride with him behind when I heard Bo Hamburger was trying to come across, so I had to ride hard. In the last kilometres, I asked him to lead, and he did. I came around him in the last corner and sprinted to victory, he was absolutely empty in the end."
The hectic end to the race is remembered by the race's second place as well, even though he thinks the race could have had another ending. Carl Christian Pedersen, who was racing for Holstebro were teammates with Alex Pedersen, who later won the World Championship for amateurs on Sicily. Alex Pedersen was at the top of the Post Cup, a race series in Denmark at the time, where the second part of the series was held at GP Herning. So, while Carl Christian Pedersen was in the break with Brian Smith, he rode with multiple agendas. While he did want to win the race, it was also important for him that his teammate got more points for the race series.
"When we entered the final laps, and the race was nearing the end, different riders were trying to attack. Marc Strange (Ordrup) attacked, Henrik Jacobs (Næstved) attacked, Frank Høj (Lyngby) attacked. I wanted to keep the group together, so Alex Pedersen had a chance to join the group. But with three laps left, Brian Smith goes contra on Frank Høj's attack, and everybody was thinking we wouldn't see that guy again. I was in front at the time, so I couldn't just follow him, because then everybody would stick to my wheel. It wasn't easy to get away from such a group, because the others were good as well. So, I had to go to the back of the group and start from scratch. I had to put it all on the line, so in my biggest gear, I just give it everything. I use almost two laps to catch him and is completely smashed when I finally reach him. Behind us, the peloton joins the group we were in, and Alex Pedersen is there. I knew he had a good chance in a sprint, so now we were almost sure to get a top-three placement. It all goes a bit wrong at the end, when Herning's mayor Helge Sander, forgot to ring the clock signaling it was the last lap. The peloton was right behind us, so I take a big turn, giving it my all. Had I known it was the last lap I wouldn't have taken such a turn and stopped pulling at the 1000-meter mark. But that is easier said than done, because the peloton was close, and then we may have gotten caught. But because of this, there was no sprint, because I burned it all trying to maintain the gap. But I was satisfied with my second place because I did have a good day. Of course, I would have liked to win, so that bell mistake irritated me. But Brian Smith was the best of all of us in the group, so I had to race beyond my capacity to catch him."
For Brian Smith, it was very special to win the race. Both because the race had been so spectacular and the way the spectators from Herning showed him attention following the race. Furthermore, the race was added to his list of pro victories, and wrote history for his American team.
"I remember being on the podium, I remember looking out at the big crowd and I especially remember the very big trophy. I remember our sports director Noël Dejonckheere took us to a nightclub that night, we were invited there and I was treated like a star in the nightclub for winning the race. So, for me, I have very good memories of Grand Prix Herning. I won the British Championship in 1991, second in 1992 and 1993, and won it again in 1994. But this Grand Prix Herning was the first race in Europe Motorola won, so I got a lot of messages and attention about it afterward. When you ride on a team with so many big names, it's difficult to get an opportunity yourself, because you are always riding for someone else. It made me go to Giro d'Italia with a lot of confidence. It's a very good race, and I think it could be a very god pro race as well again"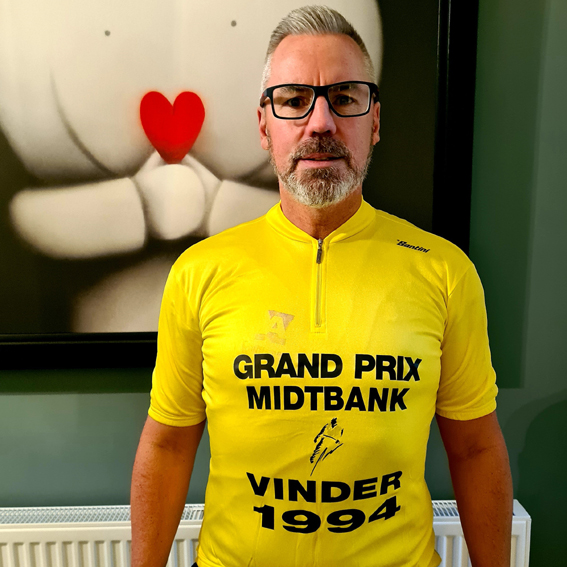 Photo: Brian Smith
Even though it is many years since Brian Smith won the race, he often thinks back on the gravel race in Herning, and when he is asked about his biggest victories, Grand Prix Herning is highlighted. And the fact that he was the first non-Danish rider to win Grand Prix Herning, he thinks is one of the reasons Bjarne Riis won the following three years, Brian Smith says laughingly.
"I talked to Bjarne Riis a couple of years after we both stopped cycling, and I told him I won Grand Prix Herning, and that I noticed he won it three years in a row afterward, so I was joking that he did it to keep the victory in Danish hands. He laughed about that".